A well-governed education system sets the standard for our society's future leaders and must be resourced, developed and protected, perhaps above all other things. However the Education Sector as a whole has never been under greater pressure.
Each level faces its own unique challenges, from primary school places and league tables, to social mobility and the increasingly competitive landscape for universities. Problems common at all levels include funding and resourcing constraints, regulators and the ever-changing expectations of students, parents and employers.
To adapt to change quickly schools and colleges need to be agile in their attitudes and decision making. To ensure this is properly managed from the top of an organisation, the correct tools and processes have to be in place.
Decision Time has been supporting organisations across the education spectrum through various models, both directly with schools, colleges and universities and indirectly through the School Governance Service provided by Local Councils.
Read more about our Further Education customers' experience with Decision Time products.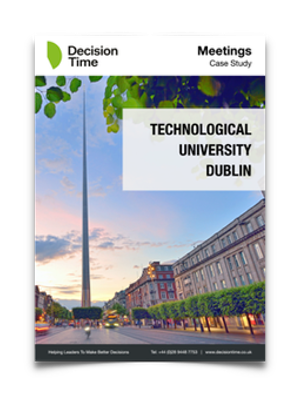 Find out how Technological University Dublin, an organisation with over 3,000 staff and 28,000 students, very quickly realised multiple benefits of using the Decision Time Meetings platform.
Contact us today to find out how our Meetings, Risks and Goals platform can help your college or university to provide good governance for this generation and the next.
"The success of this paperless board initiative is beyond question. Governors found the interface with the platform very intuitive, allowing for a seamless realignment in the Board's work methodology.

The improvement in the timely and efficient issue of Board papers was valued by Governors, making a positive impact on the effectiveness of the Board operation. It is also very rewarding to know that this investment delivers VFM cost savings on an on-going basis for the College budget, and that other organisations have now followed our lead."

Board Secretary at one of the largest
Colleges of Further & Higher Education in the UK